12V Solar Street Light Square lamp Lawn Lamp Garden Lamp Controller
Affiliate classification
:
3.7V 7.4V 11.1V Solar street Lighting Controller
light control+time control
Solar controller: 3.7V/7.4V/11.1V, 2A ( Lithium Battery)
Output loads: one output loads
Current: 3A/5A
No-load current : below 0.05mA
Environment Temperature: -15~60℃
Humidity: 10%~95%
Case: ABS
Storage humidity: 10%~80%
Key Features
1,can output constant current (output current can be set).Min:0.1A
2,Three time periods,dimming fuctution:0~100% of rated power adjustable.
3,Decrease workng power when on low battery when in low battery level,over temperature,over voltage and over power.
4,Many modes for solar street light system
5,7.4V/11.1v automatic recognition
6,IP67,strong and durable ABS case
8,external temperature sensor,automatic temperature compensation
9,four stages PWM charge way:fast,boost,equal,float
10,full automatic electronic protect function.
Item

3.7V3A

7.4V5A

11.1V5A

Dimensions

50*35

65*41

65*41

System Voltage

3.7V

7.4V

11.1V

Max. Output Current

3A

1000mA

1000mA

No-load Loss

0.05mA

0.05mA

0.05mA

Rated Output Power

10W

50W

50W

PV Input Voltage

5V-6V

9V-12V

15V-18V

Max. Charging Current

3A

5A

5A

Over-discharging Voltage

3.1V

5.7V

8.55V

Over-discharging Reconnect Voltage

3.6V

7.3V

10.8V

Float Charging Voltage

4.0V

8.0V

12.0

Ascending Charging voltage

4.1V

8.4V

12.6V

Equalize Charging voltage

4.2V

8.5V

12.8V

Over-Charging Voltage

4.3V

8.5V

12.6V

Light-control Open Voltage

1.55V

1.5V

2.0V

Light-control Close Voltage

2.2V

3.0V

5.0V

Model

Function

4 OPTIONS:

1. 11.1V 100%1H + 75%1H + 50%1H +25%3H

2. 11.1V 15W4H + 8W3H + 6W1H(morning Lighting)

3. 7.4V 100%1H + 75%1H + 50%1H +25%3H

4. 7.4V 10W4H + 5W3H + 5W1H(morning Lighting)

CUSTOMIZED

1.We rewrite the input voltage of controller according to the requirements of the battery voltage

2.Controller have light-operated system without Artificially setting.We can program to set working hours and output power according to customers' requirements.Once program be set completly, no need to be modified.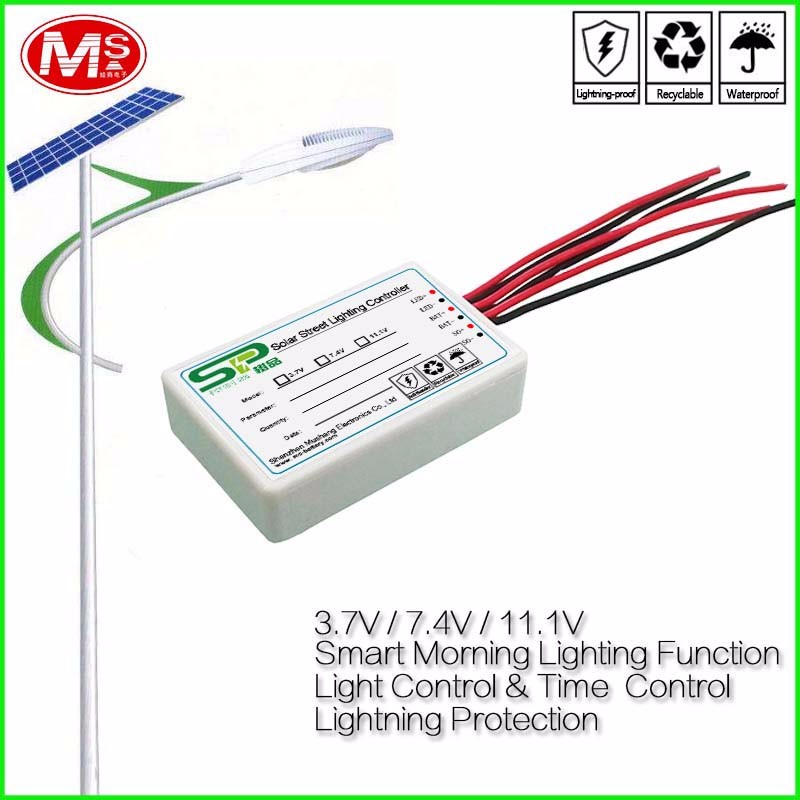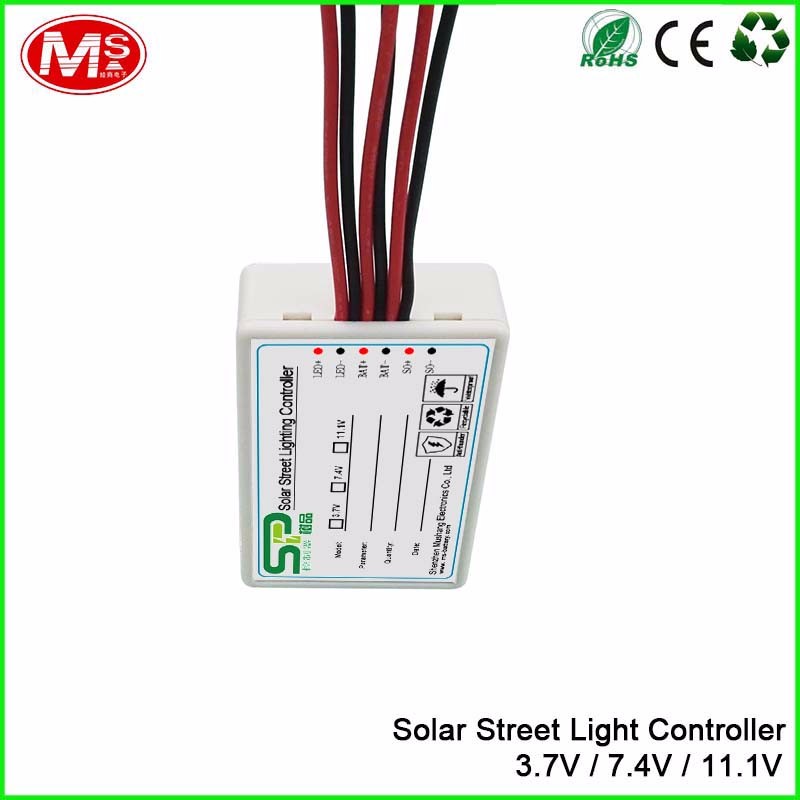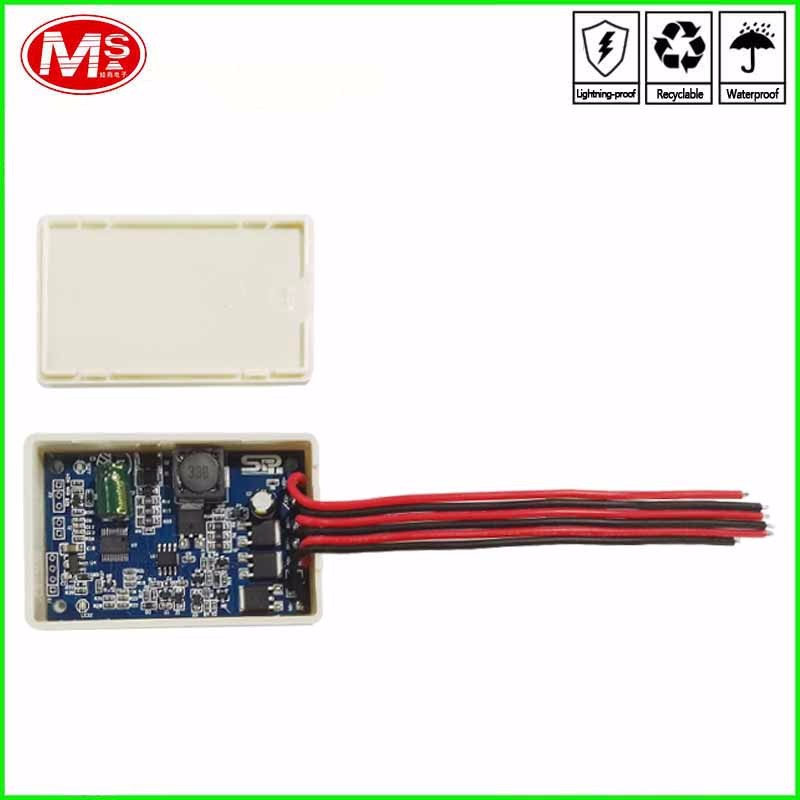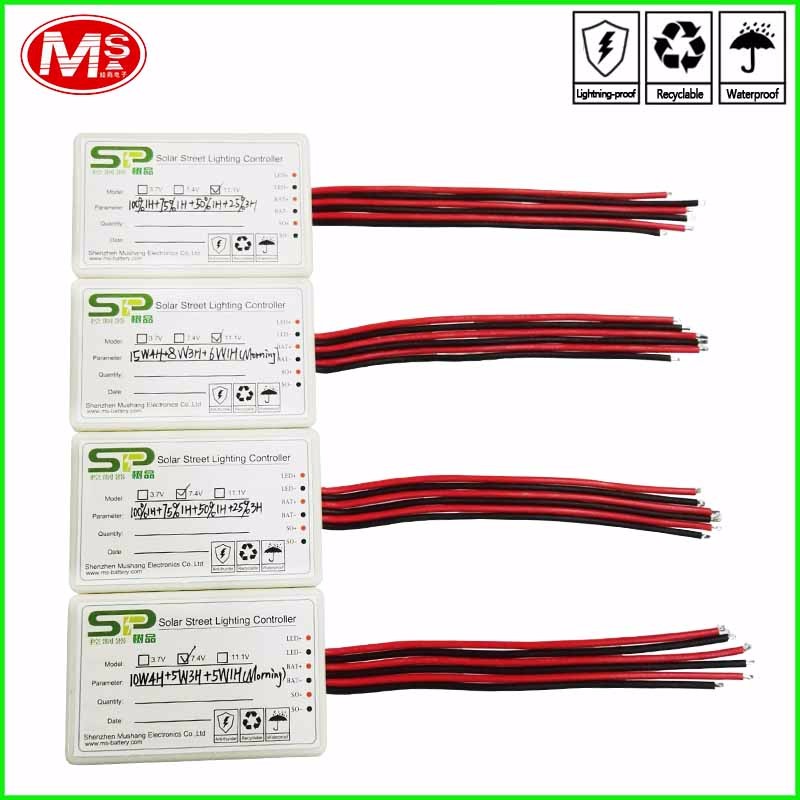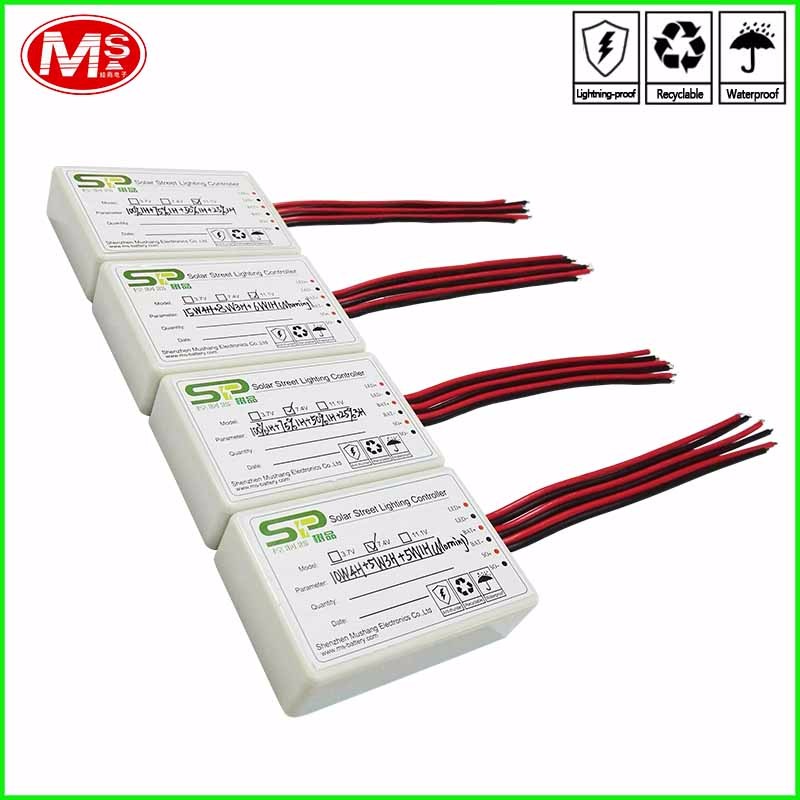 1. Shippinbg
1)Carton box or custom packaging.
2)Sample order: by Express ( DHL / UPS / FEDEX / TNT ,by Air)
3)Bulk order: by sea cargo, air freight, Express (DHL/UPS/FedEx/TNT), we can accept other shipping terms according to your requirements.
Fast delivery,Door to Door service.
2. Payment:
We accept payment of T/T,Western Union,Money Gram, Alipay and PayPal. When you finish your order,please inform us when you will make
a payment,We will start preparing goods once receiving buyer's T/T copy.
3. OEM & ODM
OEM and ODM orders are welcome, just send us your design and we can make your ideas into reality.
4. Quality
1)100% tested in production. Test one by one before shipping. All the products will go through 5 checks.
2) Mass production will only start after we get your confirmation of samples.
5. Manufacture
1) We have our own factory.
2) All Mushang goods are manufacturing by ourselves.
3) Provide you "customized products" along with the best price.
6. Warranty
1) International Warranty Service
2) All our products are provided 1 year warranty.
7. After-Sale
1) Timely provide tracking information during the shipping.
2) Any defectives, we provide free ones along with your next order.
3) Provide you free new products for testing.
Why choose us ?
1. We are a supplier with 10 years' experiences. All our items come with high quality and good after-sale service.
2.Experienced lithium ion battery & battery modules supplier. We have own brand of battery famous in China.
3.Professional technical, production & service team for your service.
4.7/24 service for you, all the question will be dealed within 24 hours.
5.Stable Quality – Come from superior material supplier and perfect quality control system.
SHENZHEN MUSHANG ELECTRONICS CO., LTD.
Contact: Jack Qi
Tel: 0086 0755 29577783
Fax: 400 066 1089
Mob: 0086 15914179074
Wechat: 0086 15914179074
Whatsapp: 0086 15914179074
Corresponding parameter set not found, please add it in property template of background
暂未实现,敬请期待
Solar Energy Lamp Street Light Smart Controller
Smart Solar Street Lighting Controller 7.4V 11.1V with Time Control and Light Control